Welcome to Mornington Primary School, a place where students and staff are always working towards our school vision; 'Inspiring a passion for learning and personal excellence, whilst preparing students to become globally responsible citizens.'
In 2023, Mornington Primary School turns 145 years old. We are extremely proud of the part we play in our local community and of the connection that so many members of the Mornington community feel to the school. Although our history is important to us, we continue to look to the future by providing our students with a broad range of opportunities to reach their full potential.
Mornington Primary is an accredited International Baccalaureate Primary Years Program school and is situated right in the heart of Mornington. Our students can walk to Main Street, Mornington Peninsula Shire, the beach and a wide variety of other local attractions and historical sites. We have an expansive site with two ovals, two playgrounds, large modern learning centres and state of the art relocatable classrooms. Our caring and highly skilled staff are dedicated to ensuring that our students are provided with opportunities to learn in a variety of ways which are engaging and challenging. We explicitly teach transdisciplinary skills such as research skills, thinking skills, social skills, self-management and communication skills.
As an International Baccalaureate World School, authorised to teach the Primary Years Program (PYP), we encourage our students to become more 'internationally minded' in the knowledge that our future adults will need to thrive in a more globally-connected world, that requires a particular set of qualities, personal attributes and skills. The 'learner profile' and the 'attitudes' of the PYP encapsulate these and form the basis from which students in each class collaborate to develop a 'class vision' and an 'essential agreement' that reflect a positive learning culture for our school. Our students are encouraged to be reflective and personal development is an important aspect of our curriculum. This is particularly evident in our 'programme of inquiry' that encourages an inquiry approach to learning through a 'concept-driven' curriculum and challenges students to understand how the world works and consider the important issues we face.
Our school vision reflects our belief that by instilling the appropriate values, promoting the development of positive qualities and providing opportunities to develop the required skills, our children will be well placed to thrive and meet the challenges of life. We encourage our students to make a positive contribution to their school, families, communities and environment, believing each of them has the potential to make the world a better place.
Our teaching philosophy continues to reflect a more inquiry-based approach to learning through developing conceptual understandings in all areas of the curriculum. Through teaching the inquiry methodology, our students will be better equipped to increasingly plan and self-manage their own learning.
The best thing about Mornington Primary School is our staff; they are knowledgeable, caring, committed and professional. They work hard to build positive, respectful relationships with students and families as we know that the stronger the home-school partnership, the better the outcomes for our students.
Students at Mornington Primary School have a wide variety of opportunities in the areas of sports, visual arts, STEAM, performing arts, ICT and French language & culture. Involvement in our school band, instrumental music, school production and a variety of clubs further broadens opportunities for our students. Our student leadership program encourages students to reflect on, and develop, the qualities of good leadership and effective citizenship.
At our school we are committed to assisting everyone to understand and develop respectful relationships. Everyone in our community deserves to be respected, valued and treated equally. We know that changes in attitudes and behaviours can be achieved when positive attitudes, behaviours and equality are embedded in our school and education system.
With a clear purpose and a culture of continuous improvement, our school provides a comprehensive education for all our students.
Susan Mattingley
Principal
In 1872 the colony of Victoria passed the Education Act. The legislation was to enshrine the idea that all children should receive a free, secular and compulsory education. The pronouncement was visionary in that it recognised the importance education would make to individuals and indeed the whole nation.
The Education Act in 1872 was a mere six pages long. But it was to determine a uniquely centralised model of school education.
Victoria was the first of the Australian colonies to set up a central public school system based on the principles of free, secular and compulsory education.
The Education Act determined that the then Colony of Victoria assume direct responsibility for education from the churches, local groups and private providers. Until then, these private organisations had supplemented what was regarded as inadequate public schooling at the time.
Schooling was to become compulsory and children were required to attend school both because literacy and numeracy were a way to the common good, and because educated citizens were essential to self-government. Education was free, because it served the public benefit.
Prior to this, only about one third of the total population could read or write. However, the discovery of Gold in the colony, created wealth, a time of change & development and a growing demand for political freedom. The idea of democracy and "one man, one vote" grew. "The introduction of manhood suffrage in 1856 made it desirable, even imperative, that each adult male should be sufficiently educated to vote with some degree of judgment and discrimination."
This was the context when, in the early 1850s, in the small settlement of Schnapper Point, a new school, Schnapper Point No.567, was established. Situated in Ross Street it soon, became inadequate for the needs of the community. With the pronouncement of the Education Act in 1872, a new school was proposed.
In 1878, six years after the Education Act became law, Schnapper Point School No. 567, ceased to exist and Mornington School No.2033 opened its doors under the headmastership of Richard Hutchinson, recorded as qualified to teach military drill and gymnastics. He was described by the then Inspector Main as, "… a man of gentlemanly deportment and a careful teacher." And so began, what is now known as, Mornington Primary School, also referred to as Vale Street by many locals.
Mornington Primary School has served the local community since that time. In 2012, 134 years later, Mornington Primary School achieved a significant milestone in its history by becoming an International Baccalaureate, World School. We have come a long way! And yet, Mornington Primary School is still a school of the community – but one looking beyond the Mornington Peninsula and beyond our national borders. Our children are growing up in an era of global perspectives through international treaties and economic connectedness. Most of our children will probably travel overseas for recreation and employment purposes. Being an IB World School and being more internationally-minded will give our children the start they need to become effective global citizens.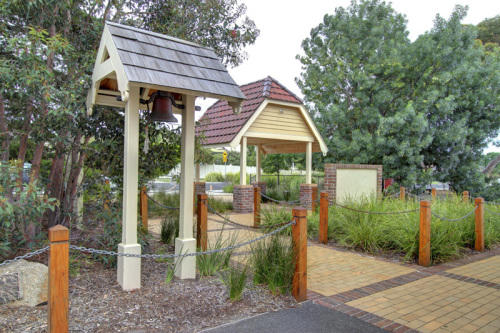 View of Hall from Senior Oval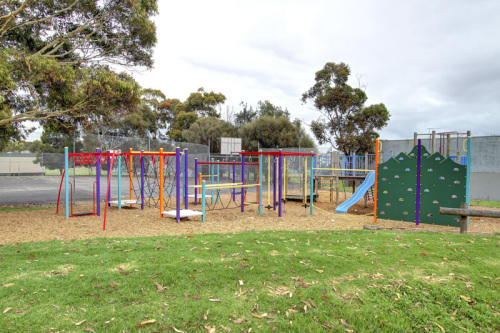 Mornington Primary School welcomes involvement by parents and caregivers. We know from research that students experience greater success at school when their parents/caregivers and school develop strong home/school partnerships. There are many opportunities every year to participate in your child's education. Some of these include;
camps
excursions
reading helpers
classroom helpers
incursions
Parents and Friends
fortnightly assembly
School Council
senior sports days
athletics carnival
swimming sports and
whole school cross country
Further details about Parents and Friends and School Council can be found in the "Parents" section on this website.